Our trip to the Dordogne region of France
June-July, 1998 - Some things may have changed!


Barbara and I decided to celebrate our 30th Wedding Anniversary in 1998 with a trip to France. We had lived in Paris in the early 70's, and had done some cycling in the Paris area. We decided on France to eat well and on the Dordogne because it was new to us and highly recommended. It was a good choice.

We were traveling on our tandem, a 1988 Cannondale road bike. We each took two pannier bags full of clothes, travel stuff and personal items. I also had a small bag with tools and spare tires on the front rack and a handlebar bag with a shoulder strap to hold my diabetic supplies and other things we needed to take with us when we got off the bike. Barbara had a bag under her saddle for similar stuff. We had a target of about 10 pounds each. Barbara made it, but I exceeded it considerably for my stuff, probably getting up to 12 pounds including my lightweight silk sport jacket and tie. Here is our complete packing list. We update it after every long trip. You probably don't need a sport coat any more.

I packed our tandem in a standard Delta Airlines solo bike box. I forgot to measure it, but the usual dimensions in inches are 9x40x66. I picked the box up a few days early. It required removing three of the four cranks, the wheels, both handlebars and the rear derailleur. I put spreaders between the dropouts of the fork and rear triangle. I wrapped the frame in bubble-wrap and tied all of the parts to it. I bought two 4x8 foot, inch thick styrofoam insulation boards from Home Depot, and used them to put three layers of foam in the bottom, line the sides with one layer of foam and put foam on top. I reinforced the handle holes and sealed the box with packing tape, with a few bands of nylon filament tape as well in case the box got wet and melted. We never mentioned the word tandem to the airline, just said it was our bicycle. There was no charge for a bike in those days on international flights.

Air France was dealing with a pilots' strike, so they booked us on Spanair. I tipped the Spanair baggage handler $10 and asked him to be careful with the box. It emerged in Bordeaux looking almost brand new. No other airline has done quite as well for us. It helped that we had no rain during the loading, transfer in Madrid and unloading of the box. Rain just destroys the cardboard.

We had reservations for our first and last nights at a modern Novotel hotel very near the Bordeaux airport. They had a van that picked us up and the box fit inside. They also agreed to keep our bike box until we returned, no charge.

Some highlights of the trip:
We went into Bordeaux the next morning, having an easy time because it was a Sunday. The city was full of soccer fans there for the World Cup matches. We took a new cycle trail on an old rail bed out of town to Créon, then on to Branne for our first night on the banks of the Dordogne at the venerable Hotel de France. There was an antique and craft show happening along the river bank, where we were offered a free sample of a great Armagnac even after we explained that we were on a bike and could not take any along. (Smart salesman--We later ordered a bottle from New York, for twice what he was selling it for.)

From Branne we followed the Dordogne on mostly quiet country roads through jillions of acres of grape vines--the heart of Bordeaux wine country.
There were some spectacular views whenever we climbed out of the valley, such as this one from the chateau at Beynac. We learned to consult the Michelin for the rating of the view before doing the climb!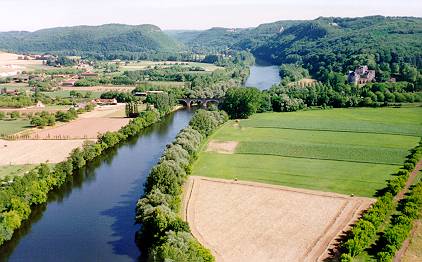 After our first few lunches at good restaurants we felt overstuffed and for lunches we ate bread and cheese and yogurt and fruit at picnic spots. You just have to remember to stop and shop before the bakeries and groceries close at 12:30. We continued on to Sainte-Foy, (former fortified Bastide) and Bergerac (statue of Cyrano de Bergerac, a fictional character). At Souillac we visited an incredible museum of animated figures from the 1800's and early 1900's that kept us smiling for the whole visit.
Those figures are all moving! You can find more info here about the Musee de L'Automate". Located in an old abbey, it was one of the trip's most memorable highlights.

In one day we visited the town of Lalinde, Josephine Baker's Chateau des Milandes and two other chateaux (all involving big climbs and long visits). One chateau had a demonstration of falconry. Then it was on to picturesque Limueil, lofty Beynac, Domme (big climb, great view, neat old city) and St-Cyprien. Coming into Sarlat, an incredible city from the middle ages, we met a large group of bike riders who invited us to come along. They were from the road department, taking an annual ride on the roads they maintain. After Sarlat we crossed the Dordogne and headed to Rocamadour, built in layers on the side of a cliff and part of the Way of Le Puy pilgramage visited by many centuries of religious pilgrims, who still come today.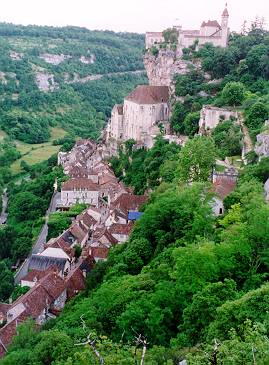 After the Gouffre de Padirac, a memorable cavern reached by an underground river, we left the Dordogne to head south to Figeac, where we walked on a huge sculpture of the Rosetta Stone, deciphered in 1822 by a son of Figeac, Jean-François Champollion. The sculpture takes up the entire Place des Ecritures.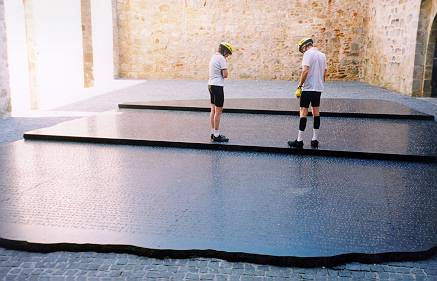 Near Figeac we picked up the almost traffic-free road down the valley of the Lot
We met Jacques and Renee, the only other tandem we saw. They are from France's Brittany region, and the legend on their panniers says "Land's End" in the Breton language.
We followed the Lot south east to Cajarc (hotel built by former French President Georges Pompidou to house visitors to his country home there), St-Cirq-Lapopie (big climb, big view, neat old city with streets too steep to ride down), and Cahors (larger city, named in Roman times for a cool sacred spring, with a musical water fountain, neat old bridge, good advice on our route from a bike shop owner, unique intensely purple local wine).

We cut north across the causse plateau to Villefranche, then crossed the Dordogne and rode up the Vézère valley to Les Eyzies. We visited the Font-de-Gaume cave there with prehistoric paintings and by luck joined a fabulous tour guided by a professor from Bordeaux brought there by special arrangement by Backroads Tours for their group passing through town that day. (That spoke very well for Backroads.) We saw the pit where Cro Magnon man was found by railroad builders digging gravel. Cro means pit in old French, and Magnon was the name of the family in whose back yard the pit was located. So we homo sapiens are named for the gravel pit in the back yard of the Magnon family in Les Eyzies.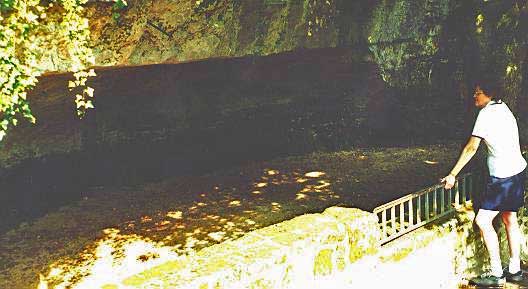 In Les Eyzies we ate at the best restaurant of our trip, a Michelin two-star called the Centenaire. Their terrine de cèpes (mushrooms) was so memorable that it was worth the entire visit to France.

Further up the Vézère we visited the town of Lascaux and another cave called Lascaux II that is the exact replica of the Grotte de Lascaux, a famous prehistoric sanctuary with cave paintings. The paintings are reproduced in the second cave now to keep visitors' breath from ruining the originals. (Even the replica cave limits visitors.) That night we ate in a memorable restaurant where the outdoor terrace was located across the road and the nimble waitress scurried across between cars to bring our dinner.

Back south to an incredible cliff site, a former fort and town called La Roque-St-Christophe. Then on down to the Dordogne again. We crossed it to go to the Musée de Vélocipède in Cadouin, where they have an incredible collection of over 100 mostly pre-1900 bikes starting with an actual Draysienne (hobby horse, foot propelled) from the mid 1800's and three recumbents from 1925 and 1927 that look very much like the ones you might see on the road today. (No photos allowed, so here's the outside.)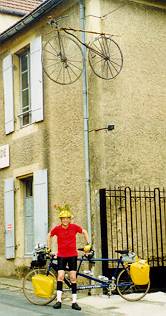 Then back to Trémolat, where we stayed at a one-star restaurant and nice hotel, and had another fabulous meal. Returned westward on the Dordogne for our longest day (60 miles) to Castillon, then on to Saint-Étienne for our "wine day" visiting Chateau Preyssac where the treaty ending the Hundred Years War was signed and they make wine today. Saint-Étienne is a very interesting town with underground churches carved out of the rock and a very nice one star restaurant where we had yet another fabulous meal including a local 1988 Clos des Menuts wine (same year as our tandem) and enjoyed a fabulous view of the town.

We returned to Bordeaux on the cycle trail, and after three weeks of country riding and small towns we were bummed out by the heavy city traffic when we got there. Toured on a bus, packed our bike and had our last one-star meal, returning to our Novotel in a very fast taxi to fly home the next day via Air France, who chewed up our box a little more than Spanair, but did no damage to the bike. On the flight they announced that France had beaten Italy in "le foot" and the whole plane sang La Marseillaise.

Some observations:
Our trip was three weeks long, and paced just right for us. We cycled to sightsee, not to put in miles, and stopped a lot for photos (we have 200 more) or just to watch somebody fishing. We rode every day, though, and did 600 miles total. We had almost no heavy rain, but two days of occasional light showers. The same area would work well for people who just want to ride, since the roads are good, the scenery is great and the old towns are very picturesque even if you don't care to go into the history. Knowing the language and culture helps a lot in understanding what is going on, ordering meals or asking directions but is not necessary. The area has no big cities, and we find that the people in provincial France are always nice and not particularly interested in arguing about any current US-France political issues.

We were there just before the main tourist season, which begins to get busy in early July and ramps up sharply after July 14. We would not go there from July 14 to the end of August. We had our pick of hotels, restaurants and historic tours, but in the high season you would not. (They only let 200 people per day into the Font-de-Gaume cave and 2,000 per day into Lascaux II.) And the traffic would be much worse. When we left, the press was just launching the annual "Some of you are about to be killed in our annual vacation slaughter" campaign. As it was, the French drivers were infrequent on the roads we used, but sometimes fast (mostly Paris license plates on those). They all were very courteous and gave us plenty of room except one delivery van coming toward us one day who decided to pull out and pass another car, taking up our lane and running us off the road. We have never had anything like that happen to us in France before or since. We were warned about British tourists who are sometimes encountered on the wrong side of the road, and of course everybody knows about Belgian drivers. Except for the one delivery van incident, we generally felt safe while riding, but probably would not in the heavy tourist season. We did only a few miles on N (National) routes, the high-traffic roads to be avoided.

Our Visa card worked everywhere for hotels, meals, goods or cash from ATM's, and nobody wanted our French Franc travelers checks, which we had taken in case the Visa didn't work for some reason.

Most of our hotels were two star by the tourist bureau's NN rating standards (New Normes -- probably "new" in 1950) and cost about $40 to $45 per night. (NN hotel stars go up to five, and do not track the Michelin three-star restaurant system.) We never encountered a bad hotel. The best of them came from the booklet published by the French Federation of Cycle Touring called "Bonnes Addressses." Others we found in the Logis de France book of owner-operated hotels or the Michelin red guide. Everybody at every hotel was good to the bike, including our host in St Emilion who helped me carry it down a tight spiral staircase into a medieval dungeon for the night, marveling at how light it was, and another hotel who just rolled it into their very elegant restaurant for the night after we had gone to bed.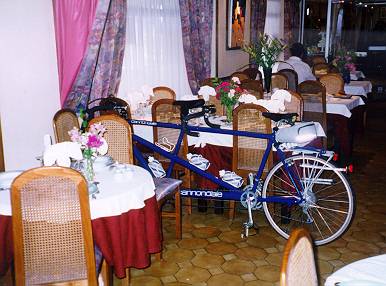 The tandem worked very well. We had two flats, both very gradual and easy to patch. We broke our chain in Les Eyzies on a steep pitch around a corner where I was caught shifting. We carried three spare tires because we were using 27 x 1 1/4 rather than 700c and there are none in France. My ten-year-old saddle broke but a shop in Sarlat ten miles away had an exact replacement. We didn't have a third brake, and stopped on three of our descents to squirt cooling water on the rims. We had a Kryptonite lock and used it, but most people in the area don't bother with anything that heavy.

My goodness you eat well in France! But not vegetarian and they eat a lot of meat, resulting in higher fat and protein diets than most cyclists would eat here. We just suspended judgment on that and ate the good stuff. It was wonderful.

This was one of the best vacations we have ever enjoyed. I expect that our next long overseas tour will be in France. It will be hard to find a better area than the Dordogne if you like French food, nice scenery, good roads and history that is rich even by European standards.

Of course, our mail had piled up some while we were away!
More photos
Here are more photos All taken with our Olympus Stylus Zoom 105 rangefinder film camera on Kodak Royal Gold 200 film and scanned at 300 dpi on an HP ScanJet 3c. Olde tech.

Some resources:
The Michelin Green Guide to the Dordogne region (Dordogne Périgord-Quercy). Our bible. We followed the touring itineraries they lay out to make sure you see all the major attractions, although not always on the same roads. They rate the attractions with a star system, and even rate the views from each overlook so you know if the climb is worth it. There is a capsule history of every site and village with sections on local history and customs that are very informative. They even include the hours and closing days for each museum and tourist site. We would have missed a lot without this book!

Fédération Francaise de Cyclotourism - Le Guide du Cyclotouriste: Les Bonnes Addresses FFCT, 8 rue Jean Marie Jego, 75013 Paris. Tel 01 44 16 88 88. Fax : 01-44-16-88-99 The best reference for hotels for cyclists in France. The places range from four rooms over a bar to one three star hotel ($80) in Sarlat. Most are two stars, running about $40. The FFCT normally publishes the Bonnes Addresses in April, but this year (1998) it was delayed. They finally sent us a copy of last year's book gratis. Good people. They now have a Web site up.

The Michelin Red Guide to hotels and restaurants. A thick, heavy book but it is France's definitive restaurant guide, and we used it almost every day. Barbara extracted just the pages we needed, a huge undertaking that eliminated a pound or so and was well worth the effort.

Logis de France directory. The Logis hotels are small to medium size, owner-run and friendlier than most. Used when we didn't find anything in the Bonnes Addresses. On subsequent trips in other areas we have usually found them the most pleasant places to stay.

Gites de France - A system of bed and breakfasts that we did not end up using. Could be less expensive than hotels. Got their guide from the French tourist office in New York, locatable on the Internet. We used one in Burgundy on a later trip and had a delightful experience.

VégéList.online.fr - We found this vegetarian restaurant guide after our trip. There were not that many restaurants listed way back then, but that has changed over the years.

IGN 1:100,000 maps. Show almost every road. Essential. Do not show grades as the Michelin maps do, but we seldom ran into grades worse than 6 per cent, so the hills slow you up but don't beat you up. (Some exceptions of 8 to 10 per cent for short pitches and a few of the climbs up to chateaux.) We get our maps now at Omni Resources - nice people and they seem to have almost everything. Note that in those olden times there were no GPS's!

Dick and Marilyn Powell were very helpful to us answering questions before our trip. They now run Dordogne Bicycle Tours and have a home in the Dordogne. Their Web site has a lot of stuff up on the Dordogne trips they lead, including itineraries. Their stuff is very well written and reflects a lot of planning and local knowledge.

Here is an email from Dennis Hayes & Karen McCann, who had just as much fun as we did, using many of the same roads.

Here is a link to weather in Sarlat.

Here is my home page, with a link to our tandem trip to the Netherlands in 2004.

For questions, send me an email to info@helmets.org.

Randy Swart
July 14, 1998



---
Last updated: August 6, 2017