The Hankeys Visit Washington
---
Marion and Liesl Came to Washington to Have a Good Time
And they did!
Here they are in the Swart's living room, smiling.


Hankeys Two were met by Bob and Kathy Dollar (friends of a friend) at Dulles International Airport and escorted to DC via Arlington, Virginia, where they returned after the first night to stay with Barbara and Randy Swart.

The dynamic duo visited most of Washington's major attractions in just a few days of intensive sight-seeing. What a schedule!


---
And they had fun on the Internet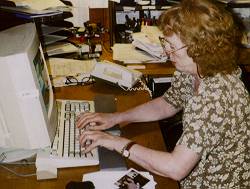 That's Marion sending email to Bob Dollar and to Howard. She also did some Web surfing.
---
Lucky Liesl took a fall and skinned her knees.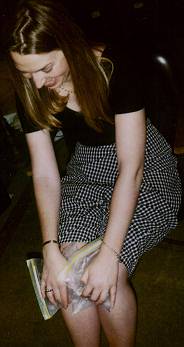 Oh no! Ice packs!
---



But knees could not prevent them from visting the White House the next day, and sitting on all the Forbidden chairs. (Bill Clinton was traveling in Africa, so don't believe any stories they may tell you about him!)








They visited many famous landmarks, all the monuments, museums, art galleries and gift shops. Rode the metro and bus system, saw the Pentagon, in short, did the town until their feet could do no more.




---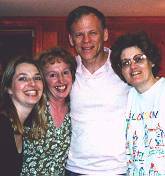 Relaxing later with Barbara and Randy, their hosts.


Then it was off again, to the State of Florida. Here is the rest of the tale.

We hope they return some day for another visit!
---
---
---