The Swart to Swart Visit by Bike
Summer 2004


---
In May and June of 2004 we American Swarts
visited the Dutch Swarts. We had a great time!
We took our tandem, stashed in a standard bike
box by removing all the parts first. Details
and more info on our trip are at the bottom.


Rob and Gerry (Gerard) Swart met us at Schiphol Airport.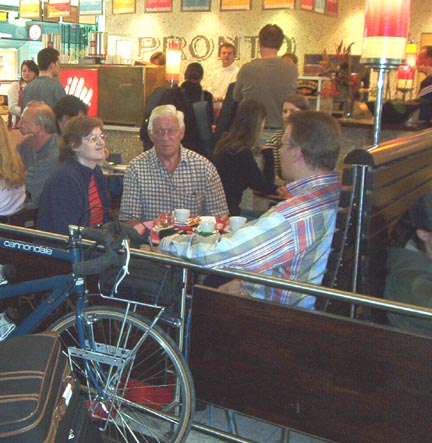 They bought us a welcoming coffee and took our bike
box to De Meern. They also got us to the right track
to catch our train to Middleburg, in Zeeland, the
southwest part of the Netherlands.
We rode from Middleburg to the site of the International
Tandem Rally at the Schotsman campground, near Veere. Here we are on
the way, stopping in Veere.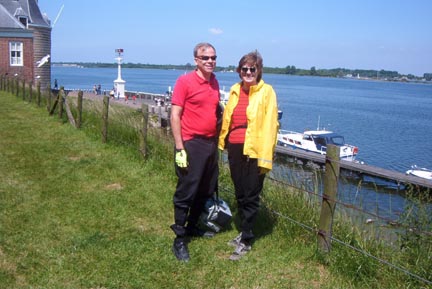 We had a bungalow in the campground, and a delightful
British/South African couple (Corinne and Scherrit)
sharing it with us. Both are serious London financial
types with a great sense of humor. Some of these photos
are Corinne's.



Zeeland has classic flat reclaimed land, many dikes,
and you look up to see the ships. We really enjoyed it.
They also had farms of wind turbines.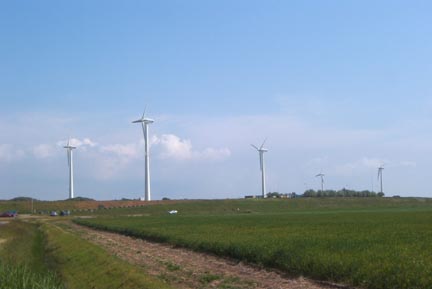 Barbara and Corinne add some perspective to their size.



We toured for a week with the other rally participants.
One nice visit was to a miniature 1:20 scale model of
the Walcheren Penninsula in a park in Middleburg.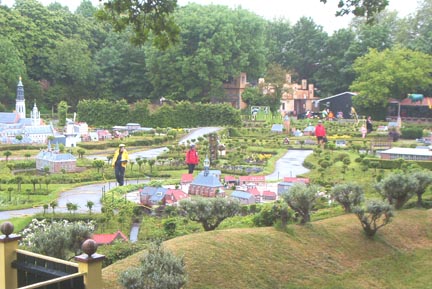 Corinne and Randy try the horses.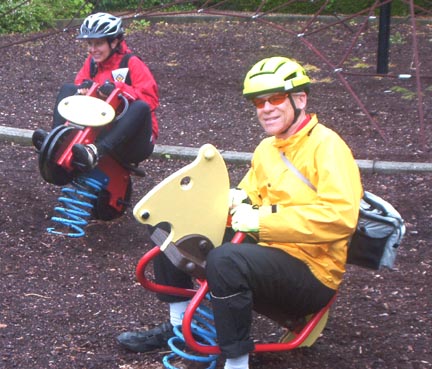 This group discovered that one coin will operate a
Dutch john for eight people. That's American team
Dave and Lynn next to Corinne. There were at least
six teams at the rally from the US.



We visited a museum with some old stocks, and Corinne
tried them out.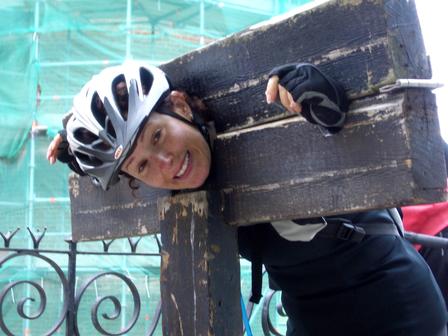 The Oosterschelde storm surge barrier, one the most
impressive civil works in the world, tames the sea.



Since the barrier is Dutch, it has a bicycle highway on top.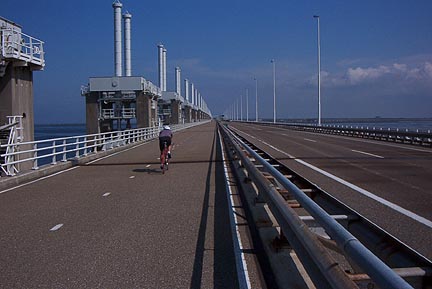 The tandem rally had The Tandem Games, including the
Slow Tandem Race and this one, the Tandem Limbo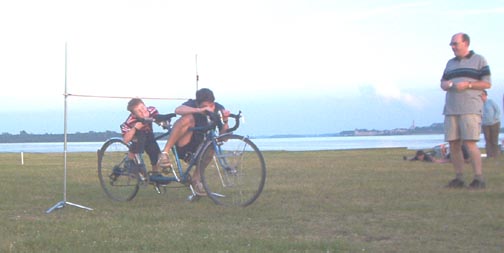 Market day in Goes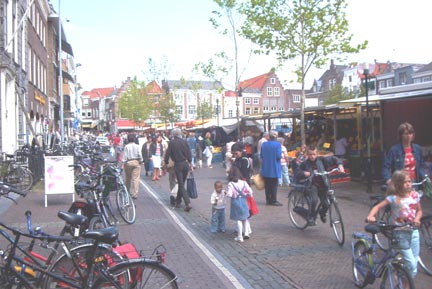 The cheese vendor in the market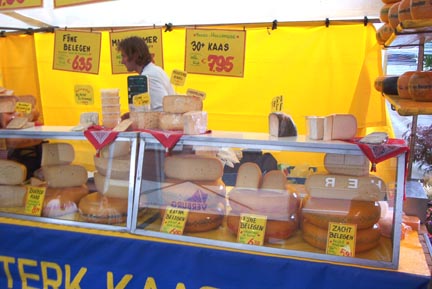 Klompen in the market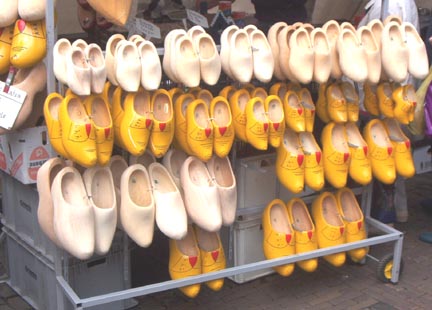 The button lady in the market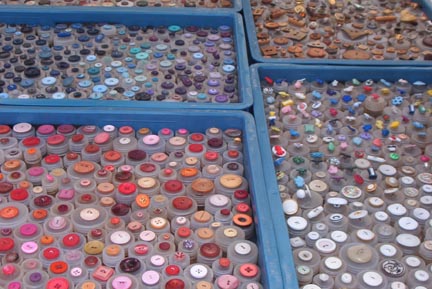 Lunch - a picnic in the park



The harbor at Goes was very picturesque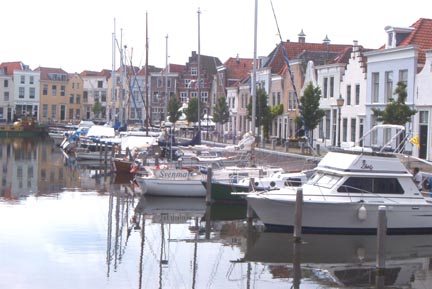 All lawns and gardens are carefully maintained.
Weeds are not allowed in Holland.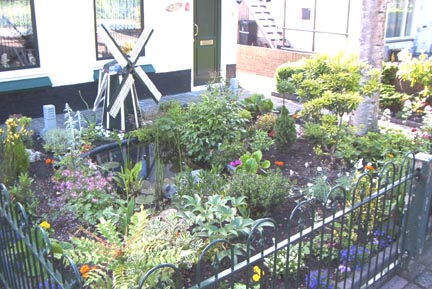 We had dinner with Corinne and Sherrit at the Binnenhof,
a fabulous Goes restaurant.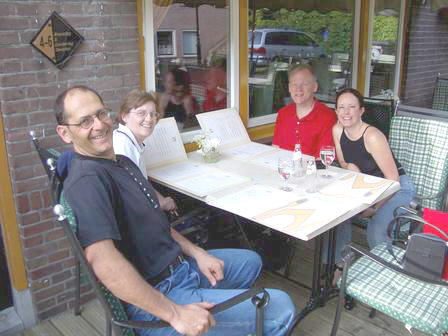 Folk dancers performed for the tandem rally.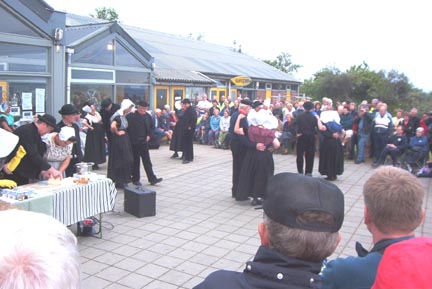 The tandem rally featured a banquet al fresco.
That's Veere across the water.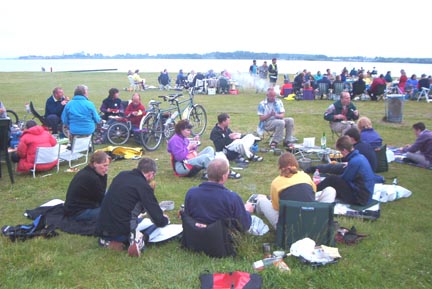 There were incredible quantities of meat.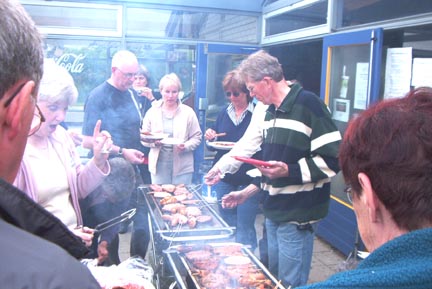 A dinner with Corinne and Sherrit at the bungalow.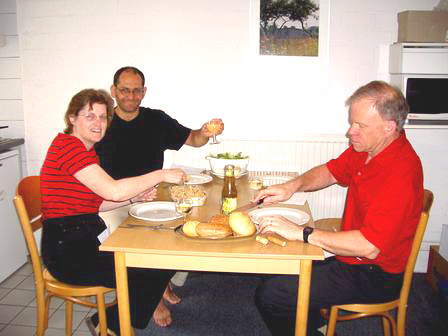 Departing from the rally after a wonderful time.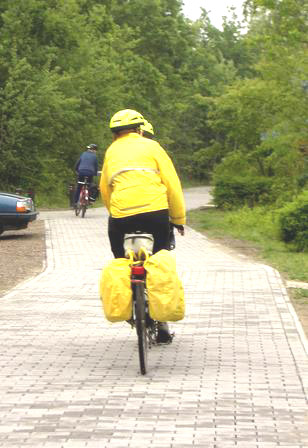 Our second week we took at train to Arnhem, closer
to the eastern border of the Netherlands.
Here is their Grote Kerk, destroyed during WW II
and rebuilt.



The church tower had an interesting exhibit on
the Battle of Arnhem, with photos of the destruction
that can be compared to the rebuilt buildings.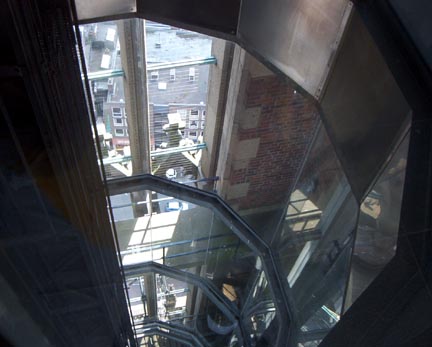 We found a free outdoor concert in a park in Arnhem
featuring Salsa music.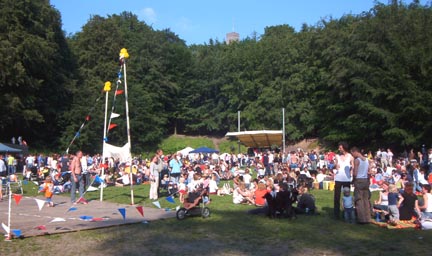 Just park the tandem at an event like that and in
a few minutes a Dutchman comes along to look at it.
While he was chatting with Barbara, his son was
giving Randy a beer.



We did some sightseeing around Arnhem, including
The Open Air Folk Museum (Nederlands Openluchtmuseum)
a park with classic buildings from all over the Netherlands.
The Open Air Museum had a real working windmill.



We climbed to the top to see how the gears work and
see close up how the wings revolve. That one is moving.



And here is a classic Dutch drawbridge.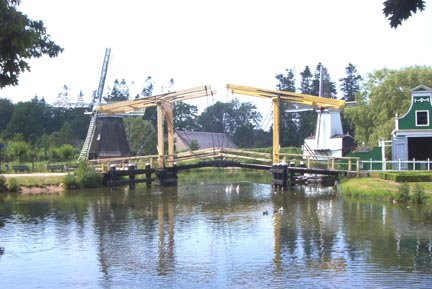 They had classes for kids in the old ways. Here they are
learning how the Dutch bleaching industry worked.



Then on to a national park called the Hoge Veluwe, a
veld that looks very much like Africa--you expect lions
and gazelles at any minute--and can only be seen by bicycle,
since the cars are limited to a few entrance roads.
There are some loaner bikes. Lots
of loaners.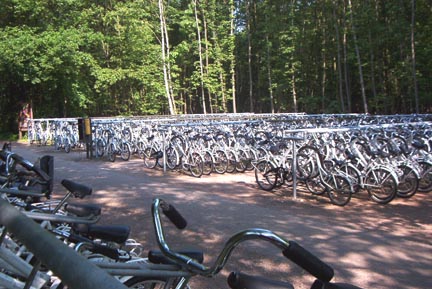 The bikeways in the Hoge Veluwe are the only
way to see the park. It certainly does not look
like the classic Netherlands landscape.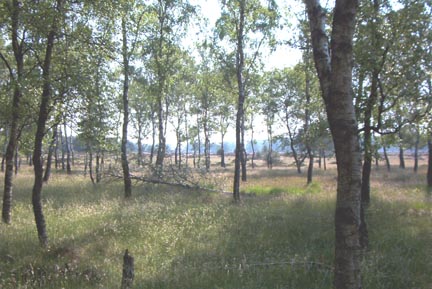 We visited the museum in the park, with a nice collection
of Van Goghs illustrating his different periods. No photos.
We stayed in Bed and Breakfasts in some towns.
This one is in Otterlo, just outside the park.



This is the road to the B&B: dirt for cars, paved for bikes.



We visited the museum of Dutch tiles in Otterlo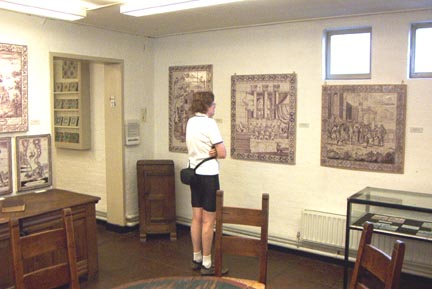 Another picnic lunch, in Barneveld



We saw lots of pretty flowers everywhere along the way.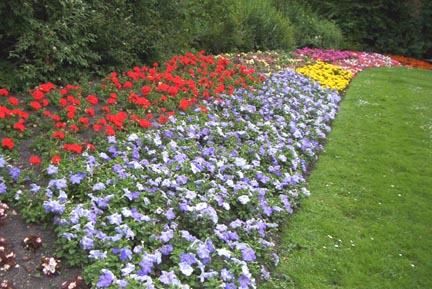 Trying not to get lost again - we were still getting
used to the maps.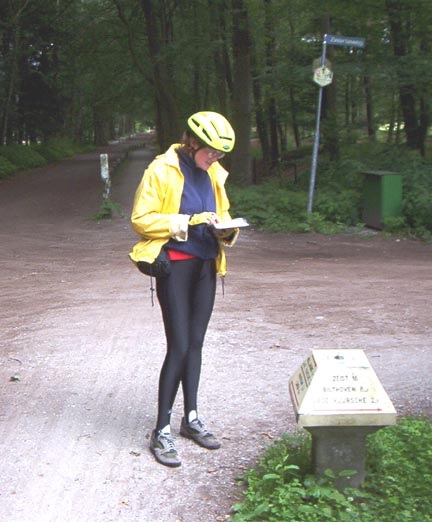 A "mushroom" has a unique number that tells you exactly
where you are.



A bicycle divided highway.



The old town of Amersfoort was very scenic



The Museum Flehite in Amersfoort displays many types of
decorative brickwork that we saw on houses during our trip.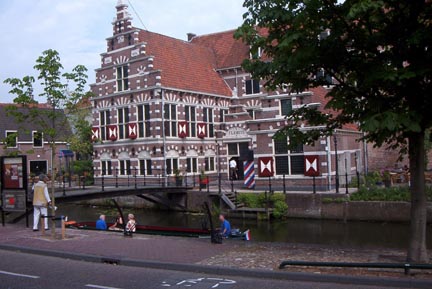 These brave dancers were practicing on a stage above the
moat with no guard rail.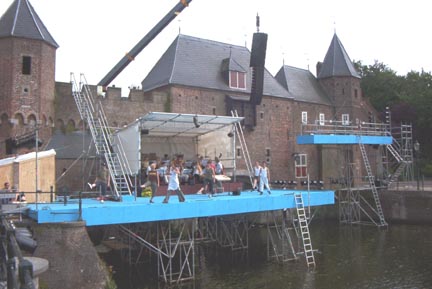 Hup Holland! The European soccer championships were on,
and the everywhere were the Orange colors of
the Dutch football (soccer) team.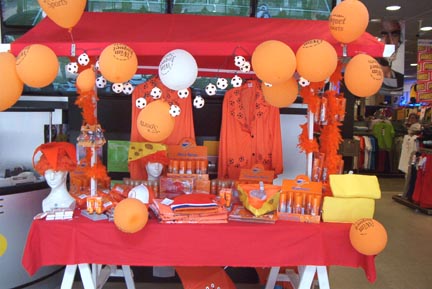 We rode into Utrecht for a four day visit with the
Swart family in the suburb of De Meern. They treated
us like visiting royalty. When we arrived at Rob and
Marian's there was the American flag welcoming us.
This one is a flag that has flown over the US Capitol,
too. We thought that was courageous at a time when
America is not too popular overseas.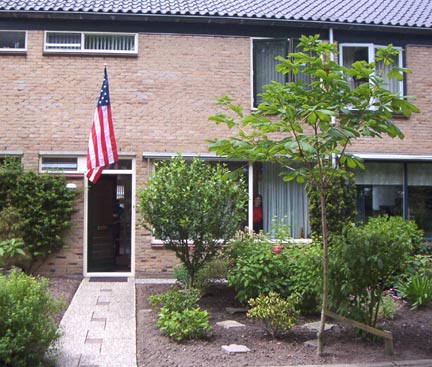 We stayed with Joke (pronounced yo-kah) and Gerry, Rob's
parents. Their condo is neat as a pin and very well organzed.
Every morning they made us a sumptuous breakfast, and on
special occasions we had fresh bread made by Gerry and a
biiiiig coffee with foamed milk made by Joke. Joke even
did our laundry for us.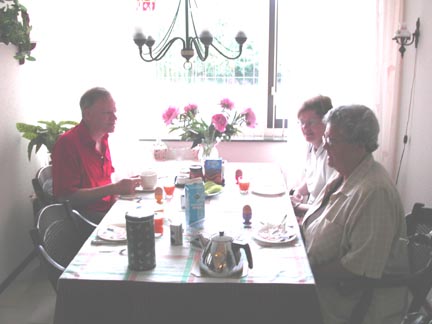 Here are the two Randys as they look in 2004.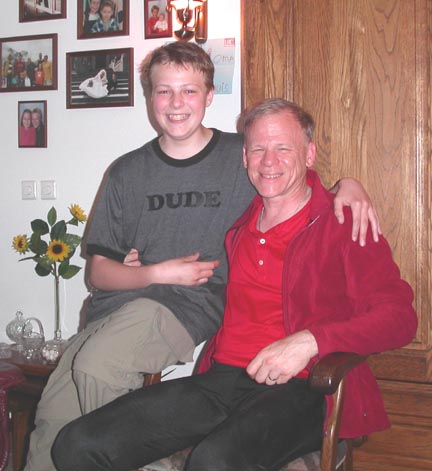 On our first day Gerry and Rob took us for a tour,
including some highlights around De Meern and parts
of Utrecht. We visited Swart Ford and John Swart,
a relative. They invited us in for coffee.



We also visited a cemetery where some Swarts are buried.



Rob showed us a trick that increases the range of
remote car lock activators. When you hold the remote
up to your head this way, the range increases. We were
skeptical until we tried it and it worked.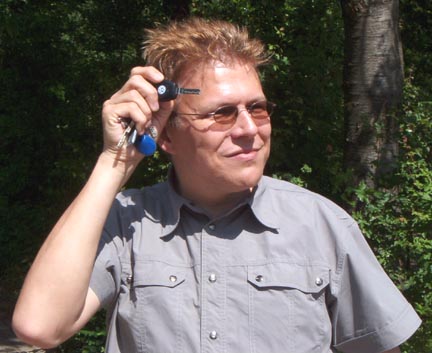 We visited an incredible bicycle vacation store, with
maps from all over the world, tours, all sorts of stuff. Rob
had sent us some materials from there to help us plan our trip.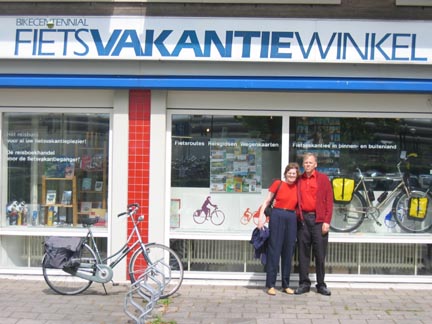 Here is the castle "De Haar" in Haarzuilens, where
Marian and Rob had their wedding ceremony in 1986.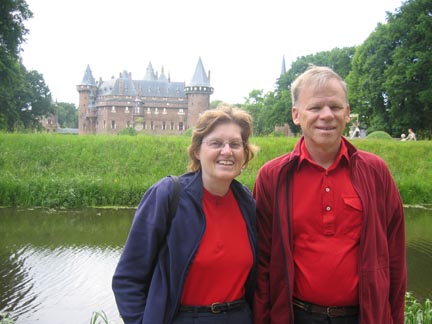 After lunch, we headed into Utrect. Here is Utrecht's
Oudegracht canal, very scenic and unique for its lower
level quay. A boat is delivering beer, since that's the
only way it can be done in central Utrecht.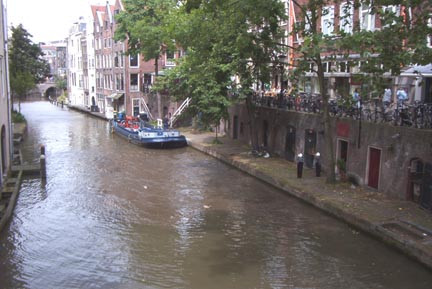 There is scaffolding erected this summer just to show
you where the old church stood. Before the hurricane of
1647 the Domkerk had a section connecting it to the
Domtoren tower.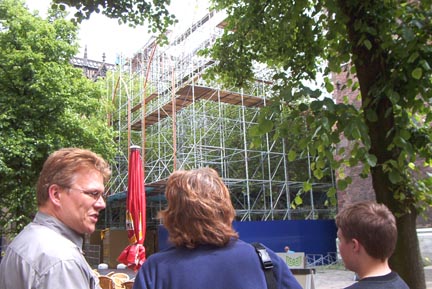 We saw the school where Randy had been going and
Heather will start in the fall. She will ride her
bicycle 10 kilometers into the city, which says a
lot about safety in the Netherlands.



Randy and Rob in a patriotic salute before the
statue of a founder of the House of Orange.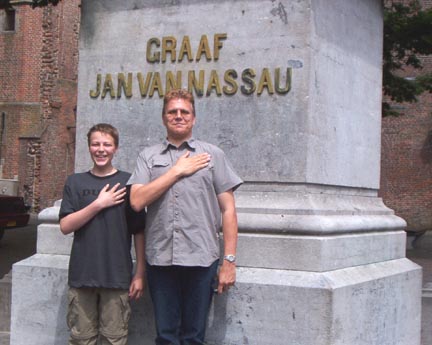 We stopped for drinks, and Randy had a beer.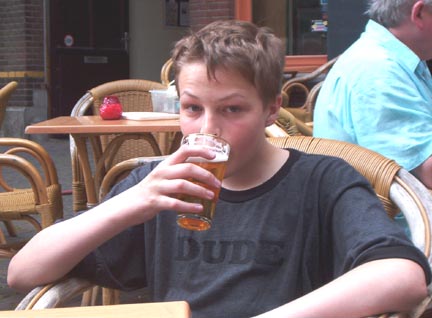 That evening Joke made us a fabulous buffet.



Rob and Gerry took us to Harderwijk for the Buccaneer's
Shanty-Festival featuring 11 shanty choirs. (shantykoor)
One of the choirs is from Vleuten-De Meern and is called
Windstilte (Becalmed). It features Gerry's brother Gijs Swart.
That's Gijs in row two with the red suspenders. It's easy
to see how enthusiastic the Windstilte singers are.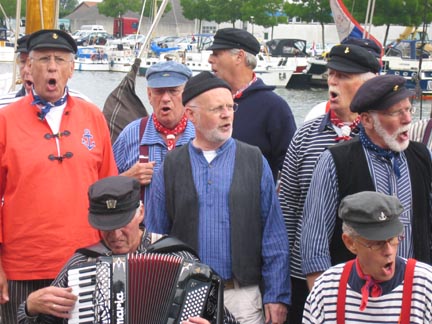 Gijs sings lead on some of the group's shanties. The group
has a colorful Web site, too.



Here is Gijs in a video clip, if your system can
handle it. It's a looooooong download.



And the crowd sang along, including the American Randy Swart,
who had learned some Dutch shanties from a CD of Gijs' group.
Here's another film clip, another long download.



Heather and Gerry demonstrated how to eat herring
the classic Dutch way



Gerry's legendary friendliness produced three glasses of grog
(Schipper Bitter) from a shanty choir who did not even know him!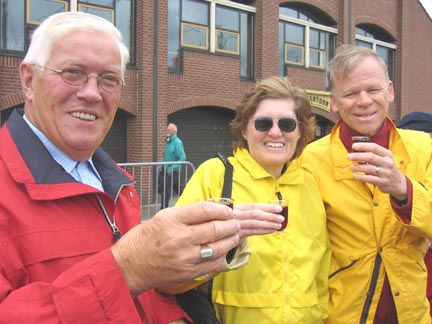 On the way to Harderwijk we saw two huge white bicycles
along the roadside: Bicycle Visions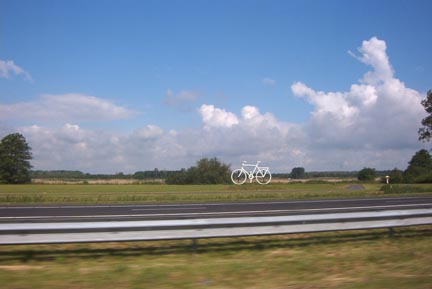 Last modified: January 31, 2005.
---
---